Grooming
We will ensure your dog receives high quality grooming on a timely basis to maintain a healthy coat and skin. We recommend seeing your favorite groomer every 4-8 week.
At Von Aries Kennels, we put your pet first, if you are new to us, we recommend giving us a call so we can get to know you and your dog. We will ask questions and discuss expectations, and then we can recommend a dog grooming program that will suit your pet's specific needs.
All dogs are different, so we offer a wide range of services, from full spa packages or nail trimming and teeth brushing, we have a packages and programs that fit your budget and your dogs needs.
Call us today for More details on our Monthly Specials & Monthly Spa Packages
260-445-4527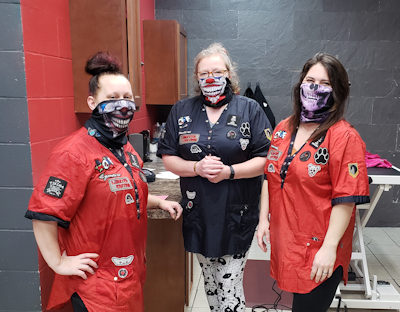 Puppy Grooming Training Program
The water along with the sound of High Velocity air forced dryers and vibrations of the clippers are some of the things which can terrify and overwhelm a scared little puppy. Here at Von Aries Kennels our number one goal is to make the grooming experience as pleasant and comfortable as possible. After all, the better the grooming experience, the more your puppy will enjoy it. For just the regular grooming price for your breed of dog your puppy will receive 3 grooming sessions once a week for three consecutive weeks and receive a diploma upon completion. This will better help your new puppy learn from a young age that grooming when done with love and patience is not such a scary process but one that can be enjoyed by both the puppy and groomer for years to come.
Bath and Tidy Program
We are proud to offer a Bath and Tidy program for your pet. This program is designed to help keep your pet looking their best, all while making sure that you do as little work as possible. This program is geared for owners who want to keep their pet's hair longer. It will help your pet stay mat and tangle free, reducing the stress of grooming and allowing your pet to enjoy the grooming process more and look great.
Terms and Conditions of this program

You must receive a full-service groom prior to entering the program

You and the groomer will decide the best appointment schedule for your and your pet's coat type and length. Normal every 2, 4, or 6 weeks appointments

You MUST participate fully in this program to obtain the discount for a full-service groom. Although you may have as many bath and tidy as you wish before your receive your nest full service groom.

Pricing will be based on the size and breed of your pet.

A $10 discount will be given when a full-service groom is requested

Every pet must have their own contract
Let Our highly trained Pet Stylist take care of your pets today!
260-445-4527
Grooming FAQs
How much does it cost to groom my pet?
Grooming rates vary depending on the breed of your pet and the services you require. They also vary based on the coat condition and whether there's dematting involved.
What type of pets do you groom?
We can groom all breeds of dogs. Our trained groomers specialize in breed-specific cuts.
Do you recommend tranquilize for pets before you bath or groom them?
NEVER! Our Groomers are trained to handle nervous pets, and they treat all our guests with tender loving care. We work with them and take the time to show them that we will not hurt them, and that grooming can be an enjoyable experience. Some pets may have had a bad experience before coming us, so we retrain them to trust us, we rarely if ever use muzzles, as they can be more traumatic for pets and can bring more aggression. They are only used when it becomes necessary for the safety of our groomers.
Why does my pet have to have Vaccinations to be groomed?
We are responsible for the safety and health of every animal in our car, so we require that every guest is full vaccinated.  Indiana also requires every dog over four months of age to have been vaccinated for rabies.